Meanwell Culture & Principles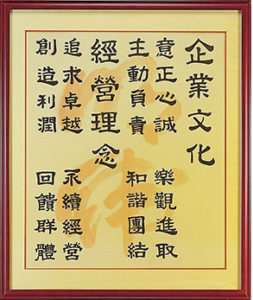 MEAN WELL is branding with rooted "good intentions". We believe the foundation of the enterprise is nothing but reliable company, reliable people, and reliable product.
Corporate Culture
"Integrity and Sincerity" is core to every MEAN WELL employee. The corporate culture of "Integrity and Sincerity, Optimistic and Progressive, Initiative and Responsive, Unity and Harmony" is what nourishing the company's sustaining growth.
Honesty and Sincerity
Open-minded, Aggressive
Active and Responsible
Harmony and Unity
Principles
Strive for Excellence
Long-Term Operations
Profit Creation
Feedback to Society
The core mission of our enterprise is to provide endless innovation and improvement in order to maximize the benefit for our customers, employees, shareholders and society.
MeanWell nurtures their employees potential abilities while developing excellent products at optimum CQTS (Cost, Quality, Delivery time and Service) to satisfy customer's requirements. Then enterprise can create the profit that is shared by employees and shareholders.
The enterprise also needs to feedback its profit to society and make a re-investment for improving company's operation system in order to pursue long term operation and enlarge the company benefit.
Quality Policy
Devoted to "Total quality assurance and customer satisfaction" we insist the power supply industry to pay more attention to long-term reliability on top of product and costs. Quality is the key to sustaining growth and indicatory of lasting customer trust. At MEAN WELL, we set our management goal to lower rate of after-sale repairs and manufacturing flaws by 10% each year. To make each and every piece of our product delivered with the optimum quality we are executing strict DVT/DQT by QA unit right from product design stage supported by IQC/ IPQC/ FQC at production line.
Total Quality Assurance
 Enhance Total Quality Management (TQM) System.
Standardize internal learning process.
Improve sourcing management and create preventive measures to avoid recurrences.
Customer Satisfaction
Provide quality and cost effective product along with our superior customer service.
Customer's satisfactory is our ultimate goal.
EHS Policy
MEAN WELL's core business include research, design, manufacture, sale, and customer service of switching power supplies. We, MEAN WELL, being aware of our responsibility of ESH (environmental safety and health) within the enterprise, is willing to ensure proper impact on the environment while conducting our operations of any activity, product and service.
We, MEAN WELL, hereby further make a commitment to:
Implement ESH management all over the company and thoroughly prevent and continuously improve pollution
Comply with eco-related regulations and other relevant requirements
Be devoted to develop energy-saving products, promote green supply chains, and minimize environmental impacts
Carry out the management of risk assessment evaluations and educational training, and achieve the goal of zero severe occupational accident
Fulfil the enterprise's social obligation to provide a safe and healthy working environment, and encourage employees to participate in activities related to the environmental protection and public welfare
Intellectual Property Rights Policy
Bolstering IP knowledge of personnel
Consolidating the structure of IP management system
Accumulating company's IP assets
Securing and monetizing company's IP rights