MR16 LED Transformer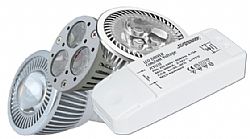 The MR16 is a multifaceted reflector bulbs, compatible for lighting fittings from track lights to pendant fixtures and suitable for a wide variety of applications including commercial and domestic. Originally designed as an halogen, this style of bulb is now also available in compact fluorescent and LED formats.
MR16
MR16 LED light bulbs will function with the majority of standard low voltage MR16 LED drivers however some are typically 20~60VA which can cause problems for this lamp due to the transformer minimum load requirements not being met. Compared to halogen bulbs the LED MR16 bulbs draw a significantly smaller amount of power, therefore do not provide a sufficient load for the more traditional Halogen low wattage MR16 transformers.
Choosing the right kind of MR16 LED transformer is an investment for your MR16 LED bulbs to ensure maximum lifespan and perfect operation. If the incorrect MR16 transformer is selected it can cause the lamps to flicker, strobe or randomly shut down, also the existing dimmers, relays and related-controls require minimum loads and may not operate correctly with some LED replacement bulbs. The most popular input voltage used is 12VDC and MR16 LED bulbs are unable to run directly off mains (230V) hence why MR16 LED transformers are required.
The advantages of using MR16 LED lamps are:
Smaller dimensions allowing designers more flexibility
Better beam control
Whiter light than incandescent lamps
Different colour temperatures including warm white and cool white
Run at lower temperatures than comparable halogen versions
Such applications of MR16 LED transformers and bulbs include; museums, retail, restaurants, track lighting, architectural, landscape and hospitals.
Please visit the link below for Sunpowers MR16 LED transformers or alternatively call our office on 0118 9823746 for help on selecting the correct MR16 LED driver.