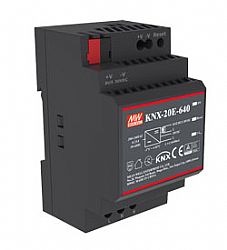 MEAN WELL KNX-20 Series 20W KNX Power Supplies
MEAN WELL are pleased to officially unveil the first 20W KNX power supply – KNX-20 Series to fulfill the demands for a standard KNX power supply from the intelligent building market. Whether for a regular residence or commercial office building, this product is able to drive a standard KNX bus system, and devices on the KNX bus can be connected to KNX-20 Series, making it ideal for the monitoring and control, within buildings, of lighting, blinds / shutters, security systems, heating, ventilation and air-conditioning systems, signaling and monitoring systems, surface interfaces, building control systems, remote control, audio / video control, white goods, etc.
In order to make the management of the architectural complex more convenient, safer, more energy-saving and avoid exploiting excessive wiring to collocate the intelligent sensor and detection devices which lower the cost of the wiring and the difficulty of installation so as to lessen the maintenance fees of the whole system and the risk of accidents, the only one worldwide standard for home and building control field- KNX- is utilized all over the world to transfer control data to all building management components to ensure that all components communicate via one common language and employ a system to deal with the problems of device isolation.
Features
EIB/KNX power supply with built-in integrated choke
Compact size with 3SU (52.5mm) width
180~264VAC input
Low no load power consumption
200ms mains failure back-up time
Button for bus reset on top
Class I isolation
Working efficiency up to 86%
Working temperature: -30~+70℃
Complete protections: Short circuit / Overload (short-circuit-proof) / Over voltage
Cooling by free air convection
Approvals : SELV/KNX/TUV/CE
LED indicator (for normal operation, bus reset and bus overload)
Suitable for install on DIN Rail TS-35 / 7.5 or 15
Dimension (L x W xH):52.5 x 90 x 55 mm
3 years warranty