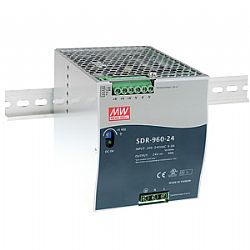 New SDR-960 Series 960W Ultra Slim High Performance DIN Rail Power Supply
After the launch of SDR-120 (120W), SDR-240 (240W), and SDR-480 (480W) series, MEAN WELL further introduced 960W high performance AC/DC DIN rail power supply~SDR-960 series, to fulfill the demands of high wattage slim DIN rail power units. Featuring slim width design (110mm), 94% high efficiency, and free air convection cooling, these units not only help to save the precious space on the rail, but also are highly reliable DIN rail power supplies that meet the trend of energy-saving.
Built-in active PFC function and featuring 180~264VAC input range, SDR-960 series is equipped with up-to-date high efficiency circuit design, which possess up to 94% high efficiency and can be full load operated at 960W by free air convection cooling at +50°C ambient temperature (or up to +70℃ by suitable power derating). Other standard functions include DC OK relay contact alarm signal output, parallel function (up to 4 units), front panel DC voltage adjustment (100~115%), front panel LED indicator, as well as protections for short-circuit, overload (constant current mode, shut down after 3 seconds), over voltage, and over temperature. In addition, they comply with UL508, TUV EN60950-1, CB (IEC60950-1), and CE certificates and also meet the EMC requirements of heavy industrial immunity level (EN61000-6-2). Suitable applications include industrial control systems, semi-conductor fabrication equipment, factory automation, electro-mechanical applications, and any installations with fan-less or low noise requirements.
Features:
Single phase 180~264VAC input range
110mm slim design
94% high efficiency
130% peak load capability for 3 seconds
Built-in active PFC function
Built-in parallel function, current sharing up to 4 units
Protection: Short circuit / Overload(C.C. mode, shut down after 3 seconds) / Over voltage / Over temperature
Fan-less design, cooling by free air convection
DC OK relay contact
Front panel DC voltage adjustment
Installed on DIN rail TS-35 / 7.5 or 15
LED indicator for power on
Certificates: UL / CUL / TUV / CB / CE
Dimension(WxHxD): 110x 125.2x 150mm