Din Rail Power Supplies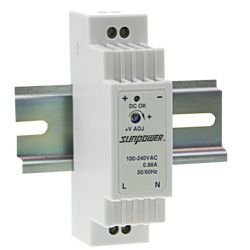 DIN Rails are metal strips that provide a convenient means for mounting electric and electronic devices in a compact and neat manner. For example, DIN Rails are frequently used for mounting circuit breakers , terminal strips , power supplies and all sorts of industrial control equipment within racks/enclosures or attached to backboards. In this way, any combination of devices can be mounted next to each other to meet the system requirements.
Standard DIN rails are shaped as shown below. They typically measure 35mm from edge to edge. The distance from the back to the rail of the front bends can be either 7.5mm or 15mm. These metal DIN Rail strips can be purchased in any length to suit the application and multiple rows of rails can be used.
The use of DIN Rail mounting systems saves installation time since all devices just snap onto the metal rails. A complete system can be quickly put together in an organized configuration that provides high density, flexibility, safety and design time savings. Associated devices can be mounted adjacent to each other, thus reducing the length of interconnect wiring.
Din Rail Power Supplies
With the introduction of SMT, we were able to reduce the size of the components used in PCB's to one-tenths of its size. Thus for a same configuration the PCB with SMT would cost less than the wire-mounted parts. This also acted as a driver to the growth of DIN rail systems as they were widely implemented in these units.
Key applications for Din Rail solutions include, IT, Control Rooms, Control Panels, Communications, Building Automation, Lighting,
The key benefits of using Din Rail Power supplies are:
Simplicity of mounting – Sunpowers selection of Din Rail Power Supplies offer a fast and easy mounting solution
Compact – Din Rail Power Supplies are small and compact and with the advent of 'Mini Din Rails ' can be used where mounting space is at a premium.
Serviceability – Sunpowers Din Rail Power Supplies can be swapped simply and efficiently reducing down time to the customer.
Cost – Din Rail Power supplies offer a cost effective power solution because of there
Full Range of products – Din Rail solutions are available from 10w to 960W and Multiple Voltage options