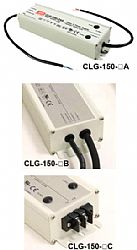 CLG-150 Series – LED Power Supplies
To extend their range of LED Power Supplies MEAN WELL have launched CLG-150 Series, a range of 150W IP65/67 Rated AC/DC power supplies, targeting larger scale LED lighting related applications.
With wide range input of 90-280VAC and active PFC function that complies with EN61000-3-2 Class C for >50% of output rated loading CLG-150 Series fulfills the requirements of typical lighting applications. Another important feature, often requested by LED system integrators, is the adjustable output voltage and current levels. Whilst keeping IP65/IP67 high protection levels agaist dust and moisture, users can adjust Io and Vo by simply removing the rubber stoppers on the case (A & C type) or through the output signal cable (B type).
The leading edge ZCS/ZVS technology used in CLG-150 Series ensures efficiency levels up to 90% and free air convection operation temperatures between -30°C ~ +70°C. Protections of the series include short circuit, over load, over voltage and over temperature protections. With three types of mechanical design CLG-150 Series allows the most suitable I/O connection to be selected.
Typical applications for these new high efficiency power units include general outdoor usage, LED streetlamps, mid-scale moving signs and backlighting, LED-based decorative/architectural lighting, LED stage and theater lighting, and LED electronic displays.
For more details on the CLG-150 Series or other products within this range please speak with a member of our sales team on +44 (0)118 970 3858, review the full CLG-150 Series specifications or visit our LED Lighting Power Supplies section.