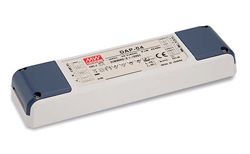 DAP-04 DALI to PWM Signal Converter
In response to the increasing demands of DALI control for LED lighting applications, MEAN WELL introduced the DALI to PWM converter~DAP-04. Along with MEAN WELL's LED PSU equipped with "3-in-1" dimming function, this new product makes the DALI control possible on LED lighting fixtures. DAP-04 equipped with both DALI dimming and push-dim functions. When connecting to the external DALI controller, it can convert the DALI signal transmitted from the controller to PWM signal, and then the PWM signal can control the lighting fixtures through the "3-in1 dimming" interface. Similarly, by adding the external push dimmer, the output PWM signal also can adjust the LED output current according to the different press time of dimmer. Each output channel of DAP-04 DALI to PWM Signal Converter can connect with the dimming control input of MEAN WELL's LED PSU for up to 20 units, which means the 4 output channels on the converter can connect with totally up to 80 units. Each channel has an independent DALI address and can be controlled separately, which greatly fulfill the demands of intelligent lighting control system that require energy-saving, high efficiency, and flexibility.
Featuring with 90~305 VAC input and power consumption 0.5W, DAP-04 DALI to PWM Signal Converter can be cooled by free air convection from -30°C to +60°C ambient temperature that required for operating in a closed system. Enclosed by UL 94V-0 rated plastic case and Class II double isolation design (without FG), these units can effectively prevent users from electrical shock. The I/O terminals of DAP-04 DALI to PWM Signal Converter are designed with screw-less clamp style terminal block, which allows users a more convenient wiring installation. Other standard functions include built-in relay contact for ON/OFF control of LED PSU. DAP-04 should be used with MEAN WELL's AC/DC LED drivers which have 3-in-1 dimming function and is suitable for applications including household lighting, office lighting, and indoor LED decorative lighting…etc that requires DALI controlled operation.
90~305VAC input range
Convert DALI signal to PWM signal
Built-in push-dim function
4 DALI addressable output channels
Linear or logarithm dimming curve selectable (meet IEC62386-207)
PWM active high or active low selectable
Dimming range: 1~100%
Class II power unit, no FG
Power consumption
Built-in relay contact for ON/ OFF control of LED PSU
IP20 level
Cooled by free air convection
Working temperature: -30~+60°C
Fully isolated plastic case
Meet DALI standards (IEC62386-101,102,207)
Certificates: EN61347-1, EN61347-2-11, EN61058-1
3 years warranty
Our range of DAP-04 DALI to PWM Signal Converters can be found here DAP-04 DALI to PWM Signal Converter