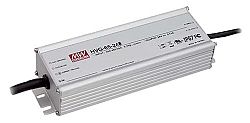 65W High Input Voltage LED Power Supply HVG(C)-65 Series
After the launch of the high input voltage LED power supplies~ HVG(C)-100/150 series, MEAN WELL announced the extension of its HVG(C)-65 (65W) series. Featuring with 180~528VAC wide range AC input, HVG(C)-65 series are not only fit for the general 230VAC main input, but also can be operated under 277/347/440/480VAC input in USA, Canada, and Japan. Designed with constant voltage (C.V.) plus constant current (C.C.) mode, HVG-65 series are low voltage output models (54VDC Max.) while HVGC-65 are high voltage output models (186VDC Max.). Both series are built-in two-stage PFC function, so that they can meet the harmonic current limitation per EN61000-3-2 Class C (>60% load), and they also fulfill PF>0.9 if loading over 60% (>70% load under 480VAC). In addition, HVG-65 series possess 4KV surge immunity (EN61000-4-5) ability which complies with the requirements of lighting industry.
HVG(C)-65 has three options (A/B/D type) in different mechanisms and functions for your selection. In A type of HVG-65, users can adjust DC current range from 60% to 100% and output voltage ±10% by removing the rubber stopper on the cover. In A type of HVGC-65, users can adjust DC current range from 60% to 100%; B type models equip with three-in-one dimming function (0~10VDC, PWM, resistance) while D type models (optional) equip with "multiple stage timer dimming" function that can be customized by request. In addition, these new HVG-65 series possess up to 90.5% of high efficiency, so they can be cooled by free air convection from -40°C to +70°C ambient temperature. In order to fit in with the outdoor harsh environment, aluminum case with fully potted by glue (IP65/67 structure) are also designed in these new power units. Beside standard functions of protections for short circuit, over voltage, overload, and over temperature, HVG(C)-65 comply with global certificates per UL/CUL/FCC for HVG-65 and UL,CUL,ENEC,CB,FCC,CE for HVGC-65, including UL8750, ENEC EN61347-2-13 and EN62384 of lighting regulations. HVG-65 series are very suitable to be used in LED lighting applications that require high input voltage range, such as LED street lighting, LED high bay lighting, LED office lighting, outdoor display, and LED decorative lighting.
Wide range input 180~528VAC
Aluminum case and potted by glue, comply with IP65 – 67
Output voltage and current adjustable
Meet 4KV surge immunity level (EN61000-4-5)
Built-in active PFC function
90.5% high efficiency
Cooling by free air convection
Protections: Short circuit, Overload, Over voltage, Over temperature
Certificates: HVG-65: UL / CUL / FCC; HVGC-65: UL, CUL, ENEC, CB, FCC, CE
Dimension(LxWxH): 189x 61.5x 36.8mm
5 years warranty