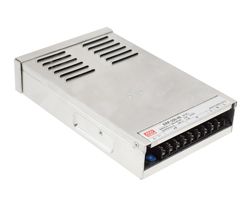 ERP-350 Series – 350W Enclosed Type Power Supply with Anti-Rain Splash Design
In response to the demands of LED lighting applications for channel letters and advertising signs, MEAN WELL launched the new enclosed type power supplies with constant voltage output and anti-rain splash design – ERP-350 Series. With aluminum enclosure and heat dissipation holes with anti-rain splash design, ERP-350 is good to be installed at the outdoor environment with suitable canopy coverage. All series are semi-potted by glue on PCB. They provide the ability of heat dissipation and protection for internal electronic components against dust and moisture as well as shock absorption to withstand 3G vibration.
With economical circuit design, ERP-350 features with 180~264VAC input range and offers 24VDC/36VDC/48VDC output voltage for selections. Possessing up to 90% of working efficiency, ERP-350 series can be cooled by free air convection from -30°C to +40°C ambient temperature, and even up to +60°C by suitable derating. Other built-in standard functions include trimming output voltage (±10%), protections for short circuit, over load, over voltage and over temperature. All series comply with CB/UL(CQC pending) certificates that ensure users the safety. Suitable applications include LED channel letters, decorative lighting by using LED strips, and LED displays…etc.
180~264VAC input range
Semi-potted design
High efficiency up to 90%
Trimming output voltage (±10%)
Cooling by free air convection
-30~+60°C working temperature
Protections: Short circuit, over load, over voltage, and over temperature
LED indicator for power on
Certificates: IEC60950-1, UL60950-1, CQC GB4943.1(pending)
Dimension (L*W*H): 220.4*130*48mm
3 years warranty