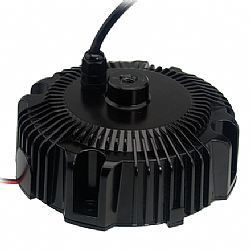 HBG-160 Series – 160W Circular Shape LED Power Supply for Bay Lighting
MEAN WELL introduce a new series of power supplies for bay lighting applications – HBG-160 series; these 160W units are the first circular shape power units to be added to MEAN WELL's LED product line.With a circular design, these new series are easy to add to an assembly and perfectly fit in with the mechanical structure of high/low bay lighting fixtures. Fully potted by glue, their aluminum enclosure can be tightly assembled to the heat sink of lighting fixtures and provide excellent heat dissipation ability, which also solves the mechanism limits of old style bay lighting systems, using a more traditional slim shape LED power supply.
Featuring 90~305VAC wide range input and 24~60VDC single output voltage, HBG-160 series are designed with up-to-date high efficiency topology, so that they possess up to 93.5% of high efficiency and can be cooled by free air convection from -40°C to +60°C ambient temperature. As long as the temperature on the top of the enclosure can be controlled under 70°C, the power supply service life could be guaranteed up to 40,000 hours. In order to withstand the outdoor harsh environment, the newly designed aluminum-molding case with full glue-potting (IP65/67 structure) can provide excellent heat dissipation ability and mechanical strength.
Built-in two-stage PFC function ensures HBG-160 series comply with harmonic current limitation as per EN61000-3-2 Class C (>60% load). They also fulfill PF>0.9, if loading is over 50%, and possess 4KV surge immunity (EN61000-4-5) ability which complies with the requirements of lighting applications. Suitable for different installation alternatives, such as chain, hanger, or metal frame type, HBG-160 series can be installed with LED modules, heat sink modules, and lampshades, to fulfill the various requirements of lighting fixtures. Along with standard functions of protections for short circuit, over voltage, over load, and over temperature, these power units have 5 years warranty, provide dimming functions of "three-in-one dimming "(B type models) and comply with global certificates per UL/ CUL/ TUV/ CB/ CE. Suitable applications include LED high/low bay lighting, stage lighting, LED spot lighting, and other outdoor architectural lighting systems.
Features
• Circular shape design with aluminum case
• 93.5% high efficiency
• Wide range input 90~305VAC
• Built-in active PFC function
• Comply with harmonic current limitation per EN61000-3-2 Class C (>60% load)
• Cooling by free air convection
• -40~+60°C working temperature
• Protections: Short circuit / Overload / Over voltage / Over temperature
• 40,000 hours service life (Tc<70°C)
• Fully potted by glue with IP65/IP67 level
• Certificates: UL / CUL / TUV / CB / CE