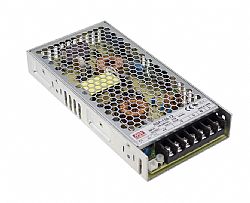 RSP-150 Series – 150W Low Profile Economical Enclosed Type Power Supply from Meanwell
MEAN WELL extended its RSP family by introducing the RSP-150 series, the new generation of 150W AC/DC low profile single output enclosed type switching power supply. Compared to the preceding model SP-150 series, RSP-150 series has the same length and width, but reduces its height by 20mm (50mm→30mm), lessening the size by 40% but increasing the efficiency by 3.5~9.5%. Featuring a 1U low profile, high efficiency, and free air convection cooling, RSP-150 series are especially suitable for end users who are looking to encompass energy saving with no noise, reduced installation space, and lower cost.
With up-to-date high performance circuit topology, RSP-150 series is equipped with PFC function and possesses up to 90% of high efficiency, so it can be cooled by free air convection from -30°C to +40°C or +50°C ambient temperature under full load condition, and even up to +70°C if suitably derated. Other built-in functions include remote ON/OFF control, short circuit, overload, over voltage, and over temperature protections. The entire RESP-150 series complies with the ITE power supply requirements per UL, CUL, TUV, CCC, CB, and CE regulations and also passed the TUV EN61558-1 and EN61558-2-16 requirements, which fulfill the household appliance requirements in the European market.
Applications include industrial automation system, mechanical and electrical equipment, household appliances (ex: vending machine, coffee machine…), instruments, or any systems that require 1U low profile installations.
Features
· 30mm low profile design, suitable for 1U installation
· Universal AC input range 85-264V
· Built-in active PFC function
· High efficiency up to 90%
· Fan-less design, cooling by free air convection
· -30 to +70°C operating range
· Protection: Short circuit / Overload / Over voltage / Over temperature
· Built-in constant current limiting circuit
· Remote ON/OFF control
· LED indicator for power on
· Certificates: UL60950-1, UL62368-1 / TUV EN60950-1, EN61558-1, EN61558-2-16 / CCC GB4943 / CB IEC60950-1, IEC62368-1
· Dimension(LxWxH): 199x 99x 30mm
· 3 years warranty
For more details on the RSP-150 Series product range Click Here