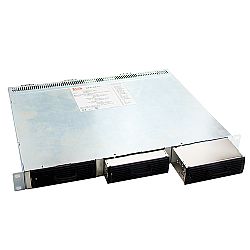 New 1U 19 Inch Rack Power Supply System
To fulfil the growing demands of high wattage and power density rack system applications, MEAN WELL further double the power density available to customers by introducing RCP-2000 series (2000W single unit) along with its 1U rack chassis ~RKP-1U. There are three output voltage level modules that can be selected to give 12V@100A, 24V@80A, or 48V@42A of front-end power source which can be configured within the chassis as you choose to a maximum of 6000W.
This industrial standard 19" rack system consists of one to three hot-swappable RCP-2000 units that, up to 6000W, can be provided in a single rack. In addition, to fulfil higher wattage requirement, three rack systems can be connected in parallel to give a total of up to 18000W of output wattage. Featuring compact size and high power efficiency, RCP-2000 has 21.4W/ in3 extremely high power density, and has 3~5% higher efficiency than the RCP-1000 series. Furthermore, the ability to withstand 300VAC input surge for 5 seconds can reduce the damage caused by the unstable AC main.
Designed with advanced digital control technology, using microprocessor as the core of power management, RCP-2000 not only provides great flexibility in power control and monitoring, the reliability is also increased. Featuring active power factor correction (PFC) and 92% of high efficiency, RCP-2000 series can operate between -40~+70℃ ambient temperature (power-on at -40℃ is possible for 230VAC input or higher). Standard functions include remote sense, remote ON/OFF control, 5V/0.3A & 12V/0.8A auxiliary output, AC OK and DC OK signals, fan fail warning and OTP alarm signals. There is also a trimming function that allows the output voltage to be adjusted between 90~110% rated value, by adding an external 0.5~5VDC control voltage.
Each single unit of RCP-2000 also possesses the built-in OR-ing MOSFET and Postronic connector so that highly reliable hot-swap and redundant operation can be ensured to provide users a worry free power source. In addition, the built-in PMBus serial communication interface can offer users all kinds of important information on the PSU if on-line monitoring is required. The output voltage (±10%), output constant current level (10~100%), and ON/OFF control of each single unit can be controlled by users through the signal input. Besides this, supervisory signals like AC input fail, DC output fail, temperature warning, over temperature protection, fan fail alarm as well as the value of output voltage, output current, and internal temperature of the PSU can be monitored easily through the PMBus interface. In view of above features, they are perfect power candidates for front-end power systems, severs, telecommunications, instrumentation, and data storage applications where a high installation density of 1U 19" rack is required.
For more information on the RCP-2000 Series, the RKP-1U Chassis or other products within the Rack Mount range please speak with a member of our sales team on +44 (0)845 533 3858, review the full specifications below or visit our Rack Mount Power Supplies section.