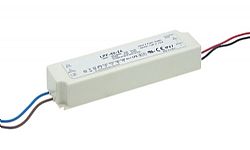 New 40/60W LED Power Units with PFC and Dimming Function
MEAN WELL announce the release of two new LED power supply series – LPF-40/40D and LPF-60/60D, LED power supplies with PFC and optional dimming function. The LPF-40/60 Series offer built in active PFC function, along with other basic functions and the LPF-40D/60D Series offer the additional three in one dimming function; offering system designers greater flexibility for designing lighting fixtures.
LPF-40(D)/60(D) Series are fully potted in heat conducted glue, to give them an IP67 rating, and enclosed in a plastic case with 94V-0 fire protection level; both of which allow internal shock absorption to withstand 5G vibration and provide protection of internal electronic components from dust and moisture ingression. The dimming function of LPF-40D/60D can be activated using 1~10vdc, PWM signal or changing of resistance to achieve brightness control and energy saving credentials.
In addition they posses up to 90% of high efficiency and can work between -40C ~ +70C using only free air convection; making them ideal for use in locations subject to harsh conditions. They not only meet the harmonic current limitation per EN61000-3-2 Class C (>60% of load), they also fulfil PF>0.9 if loading over 60%, which complies with the requirements of typical lighting applications.
These new models use wire-style input/output connections (18AWGx2C/60cm and 16AWGx2C/60cm) for flexible installations and the LPF-40D/60D models are equipped with additional control wires (22AWGx2C) for the dimming operation. Other standard functions include Class II AC input (without FG) design, protections for short circuit, over voltage, overload and over temperature and comply with global safety as per UL8750, EN61347-2-13, and EN55015 lighting regulations. Suitable applications include indoor LED lighting, LED electronic displays, wash-wall lighting, LED stage and theatre lighting and LED decorative lighting.
For more information on the LPF-40 & LPF-60 Series or other products within the LED Power Supply range please speak with a member of our sales team on +44 (0)845 533 3858, review the full specifications below or visit our LED Power Supplies section.