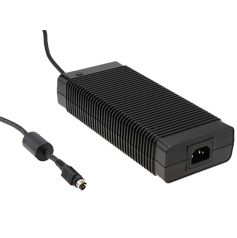 New GS280 Series 280W Green Adaptor
MEAN WELL expanded its AC/DC green adaptor line and introduced the high wattage models~ GS280 series (280W). Along with the launched series of 5W, 6W, 12W, 15W, 18W, 25W, 36W, 40W, 60W, 90W, 120W, 160W, and 220W, till now, a complete green adaptor line ranging from 5~280W are ready to provide for diverse applications of electronic products.
Using standard IEC320-C14 inlet as the input connector, GS280 series are single output desktop green adaptors. They comply with worldwide energy regulations, including ErP second step (Energy-related Products, 2009/125/EC), EISA 2007 (Energy Independence and Security Act of 2007) of USA, NRCan of Canada and MEPS (Minimum Energy Performance Standards) of Australia. Possessing very low "no load power consumption" (<0.5W) and up to 94% high efficiency, the whole series are real energy-saving at both standby mode and active mode.
GS280 series are 90~264VAC full range input switchers with PFC function. Using up-to-date LLC topology and synchronize rectifier, they possess up to 94% high efficiency which can be only cooled by free air convection from -30~+60℃. With earth ground pin and enclosed by UL 94V-0 rated plastic case, these Class I units can effectively prevent users from electrical shock. Output voltage range from 12~48V also fulfill the requirements of various electronic equipments. Other standard functions include: LED indicator, protections for short circuit, overload, over voltage, and over temperature. Furthermore, GS280 acquired global safety/EMC certificates per UL, CUL, TUV, BSMI, CCC, PSE (12~24V), CB, FCC, and CE which guarantee the safety and reliability for all different applications such as POS system, commercial electronic equipments, industrial equipments, or any instruments that require low noise by fanless design.
Features:
Universal 90~264VAC input
No load power consumption<0.5W
Built-in active PFC function, PF>0.95
High efficiency up to 94%
Fanless design, cooling by free air convection
ErP Step 2 compliant
Comply with ESIA 2007 of USA
Comply with NRCan of Canada
Comply with MEPS of Australia
3 pole AC inlet IEC320-C14
Fully enclosed plastic case (UL 94V-0)
Protections : Short circuit / Overload / Over voltage/ Over temperature
LED indicator for power on
Approvals : UL / CUL / TUV / BSMI / CCC / PSE / CB / FCC / CE
Dimension: 220x 95x 46mm