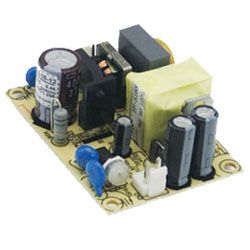 New EPS-15 Series 15W Miniature Green Open Frame Type Power Supply
After the launch of AC/DC miniature green open frame type switching power supplies EPS-25, EPS-35, EPS-45, EPS-65, ELP-75, EPP-100, EPP-150, and EPP-300 series, MEAN WELL further introduced the new models~EPS-15 series (15W), to make this product line more complete. With extremely low no load power consumption less than 0.3W, EPS-15 series have advantages of compact size, high efficiency, and cost efficient. Comparing to the first generation of PCB type with the same wattage ~ PS-15 series, their PCB size is reduced by 37%, the working efficiency are increased by 2~8% correspondingly, and the warranty is extended from 2 years to 3 years.
With up-to-date high efficiency circuit design, EPS-15 series possess up to 85% high efficiency. Hence, they can be cooled by free air convection from -30C to +70C ambient temperature that required for operating in a closed system. Complete protection functions include short circuit, overload, and over voltage. In addition, these new power units feature extremely low no-load power consumption less than 0.3W, which allows the designers easily conform to the requirements of ErP norm (Energy-related Products) and ENERGY STAR for end systems. These new series comply with certificates per UL/CUL/TUV/CB/CE which can guarantee your safety. Suitable applications include factory automation, electrical or mechanical equipment, and all usage that requires low no load power consumption.
Features:
1.8" x 2.5" compact PCB size
No load power consumption
High efficiency up to 85%
Universal AC input 85~264V
24mm low profile
Cooling by free air convection
Protection: Short circuit / Overload / Over voltage
Certificate: UL / CUL / TUV / CB / CE
Dimension(LxWxH): 63.5x 45.7x 24mm