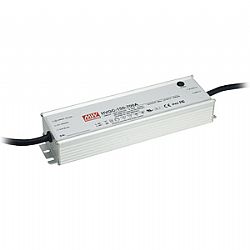 New HVG(C)-150 Series 150W High Input Voltage LED Power Supply
After the launch of HVG(C)-100 (100W) series, MEAN WELL announced the extension of its HVG(C)-150 series of 150W AC/DC high input voltage LED power supply, in order to fulfill the higher wattage requirements for LED lighting applications. Compared with HVG(C)-100, the input voltage range of HVG(C)-150 had been increased to 180~528VAC, thus, they are fit for the general 230VAC main input, and also can be operated under 347/440/480VAC input in USA, Japan, and Canada. Designed with constant voltage (C.V.) plus constant current (C.C.) mode, HVG-150 series are low voltage output models (54VDC Max.) while HVGC-150 are high voltage output models (428VDC Max.). Both series are built-in two-stage PFC function, so that they can meet the harmonic current limitation per EN61000-3-2 Class C (>50~55% load), and they also fulfill PF>0.9 if loading over 50% (>70% load under 480VAC). In addition, they possess 4KV surge immunity (EN61000-4-5) ability which complies with the requirements of street lighting.
HVG(C)-150 has three options (A/B/D type) in different mechanisms and functions for your selection. In A type of HVG-150, users can adjust DC current range from 50% to 100% and output voltage ±10% by removing the rubber stopper on the cover. In A type of HVGC-150, users can adjust DC current range from 60% to 100%; B type models are equipped with three-in-one dimming function (0~10VDC, PWM, resistance) while D type models (optional) are equipped with "multiple stage timer dimming" function that can be customized by request. In addition, these two series possess up to 91.5% high efficiency, so they can be cooled by free air convection from -40°C to +70°C ambient temperature and meet the high ambient temperature requirements for closed systems. In order to fit in with the outdoor harsh environments, aluminum case with fully potted by glue (IP65/67 structure) are also designed in these new power units. Beside standard functions of protections for short circuit, over voltage, overload, and over temperature, HVG(C)150 complies with global certificates per UL/CUL/FCC for HVG-150 and UL/CUL/TUV/CB/FCC/CE for HVGC-150, including UL8750 and EN61347-2-13 of lighting regulations. They are very suitable to be used in LED street lighting, LED high bay lighting, LED outdoor lighting and parking lot lighting…etc.
Features:
Wide range input 180~528VAC
Aluminum case and potted by glue, comply with IP65 / 67
Meet 4KV surge immunity level (EN61000-4-5)
Built-in active PFC function
91.5% high efficiency
Cooling by free air convection
Protections: Short circuit / Overload / Over voltage / Over temperature
Certificates:
HVG-150: UL / CUL / FCC; HVGC-150: UL / CUL / TUV / CB / FCC / CE
Dimension(LxWxH): 246x 68x 38.8mm