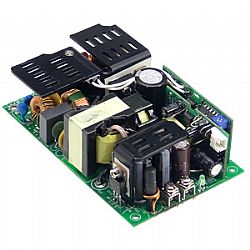 New RPS/EPP-300 Series, 300W Miniature Green PCB Type Power Supply
The 5" x 3" PCB size has dominated the PCB-type power supply market for many years and MEAN WELL also offers several models from 45W, 65W, 75W, 120W, 160W to 200W. To fulfill the requirements of miniature size and higher wattage applications, MEAN WELL has further introduced 300W high power density (14.5 W/in3) models~ RPS-300 and EPP-300 series, to provide end users a more complete choice for all kinds of applications. RPS-300 series units are designed to comply with international medical safety regulations (MOPP level) and characterized by its low leakage current (≦300μA at 264VAC) that is suitable for "patient contact" equipment, which can fulfill the high quality demands of medical applications; while EPP-300 series, the industrial level PCB power supplies, are suitable to use in the IT systems and industrial machinery/electrical equipment.
Featuring built-in active PFC function and 90~264VAC full range input, RPS-300 and EPP-300 series' are designed by up-to-date LLC topology and synchronize rectify technology. They possess up to 93% extremely high efficiency and can provide 200W continuously up to 50℃ by free air convection only, (300W with 20.5CFM forced air), or operate under 70℃ ambient temperature by suitable power derating. These two series are equipped with the function of 300VAC input surge immunity for 5 seconds, which can reduce the damage caused by unstable AC mains. Other standard functions include P.G./ P.F. signal output, built-in remote sensor, 12V/0.5A auxiliary output, protections for short circuit, overload, over voltage, and over temperature. Meanwhile, these two power units are equipped with built-in remote ON/OFF control and 5V/1A standby output to achieve the goal of "no load power consumption".
Features:
5" x 3" compact size and high power density (14.5W/in3)
Free air convection for 200W; 300W with 20.5CFM forced air
90~264VAC full range input
Withstand 300VAC input surge for 5 seconds
Built-in active PFC function
No load power consumption < 0.5W
93% of high efficiency
Low leakage current < 300μA (RPS-300)
Built-in remote sense function and remote ON/OFF control
Built-in P.G. and P.F. signal output
Built-in 12V/ 0.5A auxiliary output and 5V/1A standby output
Working temperature from -30℃ to +70oC
Protections: short circuit, overload, over voltage, over temperature
Approval:
RPS-300: Medical certificates per ANSI/AAMI ES60601-1, TUV EN60601-1, and CE
EPP-300: IT certificates per UL60950-1, TUV EN60950-1, and CE
Dimension(LxWxH): 127x 76x 35mm