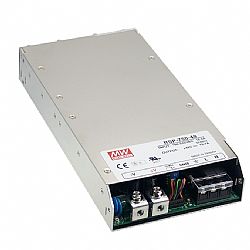 New RSP-750 Series 750W 1U Low Profile Enclosed Type Power Supply
After the launch of RSP-1000 and RSP-2000 series, MEAN WELL have introduced another 750W 1U low profile enclosed type switching power supply ~ RSP-750 series, which makes the AC/DC miniature enclosed industrial product line more complete. RSP-750 series units are 42% smaller in size compared to the current models of SP-750 (750W). Featuring with 9.44W/in3 of high power density, the new power units are suitable for industrial equipment which have limited space for installation. With wide range trimming function, both output voltage and output current can be adjusted from 40% to 110% rated output voltage by adding 2~5.5VDC of external control voltage, which provides users with great flexibility for their system design. Because of this, they can be used in the charging systems or burn-in equipments that require wide range adjustment of output voltage and output current.
With up-to- date circuit topology, the RSP-750 series units are equipped with PFC function and possess up to 92% high efficiency, so it can be cooled by the built-in long life DC fan from -30℃ to +50℃ ambient temperature under full load condition, and even up to +70℃ by suitable derating. Other built-in functions include remote sensor, remote ON/OFF control, 12V/0.1A auxiliary output, and DC OK alarm signal output (TTL signal). All units in the series comply with UL, CUL, TUV, CB and CE regulations that can guarantee your safety. Applications include general industrial control systems, IC testing equipment, instrumentation, telecoms, data storage, laser-carving machines, and charging systems … etc. that requires high wattage rating from the power supply.
Features:
41mm low profile design for 1U installation
AC input range 90~264V
Built-in active PFC function
High efficiency up to 92%
Output voltage can be trimmed between 40~110% rated value by adding 2~5.5VDC of external control voltage
Output current can be trimmed between 40~110% rated value by adding 2~5.5VDC of external control voltage
Remote ON/OFF control and remote sense
12V/0.1A auxiliary output
DC OK signal output (TTL signal)
Forced air cooling by built-in DC fan with fan speed control function
Protection: Short circuit / Overload / Over voltage / Over temperature / Fan alarm
Certificates: UL / CUL / TUV / CB / CE
Dimension(LxWxH): 250x 127x 41mm