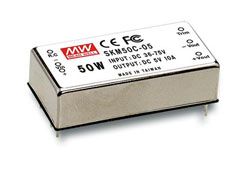 New SKM50 Series 50W Miniature Regulated DC-DC Converter
After the launch of 5W(SLW05), 10W(SKE10), 15W(SKA15/DKA15), 20W(SKA20), and 30W(SKM30) series, MEAN WELL further expanded its product line of encapsulated module type DC-DC converters with size of 2"x 1" and introduced the SKM50 series (50W). Featuring miniature size and extremely high power density of 46.3W/in3, SKM50 series can satisfy the growing demands of miniaturization applications and help system designers solve the tough issue of PCB space limitation. Equipped with standard pin assignment, SKM50 series are regulated single output DC-DC converters featuring with 2:1 wide input range, 1500VDC input / output isolation, short circuit / overload / input and output over voltage protections, low ripple noise, built-in remote ON/OFF control, output trimming (±10%), and CE/FCC compliance.
With up-to date "Active-Clamp" circuit design, SKM50 series possess up to 92% high efficiency, therefore, they can be full load operated by free air convection cooling from -40°C to +55°C ambient temperature, and even up to +75°C by derating the output load. In addition, the fully encapsulated packaging and the six-sided shield metal case can help SKM50 withstand the influence of dust and moisture in all kinds of harsh environment. Further, these new converters comply with CE/FCC Class A requirements without adding extra EMC suppression components, which can save the cost of EMC suppression components and significantly reduce the EMC compatible issues at system level. Suitable applications include industrial control, telecom/datacom, distributed power architecture, or vehicle, vessel, back-up systems, and any applications that may use rechargeable batteries as the power source.
Features:
2"x1" standard size, 46.3W/in3 of extremely high power density
Standard pin assignment
2:1 wide DC input range
1500VDC I/O isolation
Cooling by free air convection with -40~+75°C of operating range
High efficiency up to 92%
Built-in remote ON/OFF control
Trimming output (±10%)
Protection : Short circuit / Overload / Input and output over voltage
Six-sided shield metal case
Approvals : CE / FCC
Dimension(LxWxH): 50.8x 25.4x 13.7mm (2"x 1"x 0.54")
For more details on the SKM-50 Series products please select one of the links below: