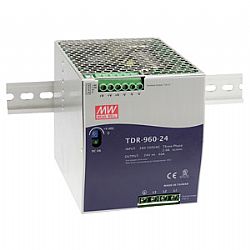 New TDR-960 Series 960W Ultra Slim Three Phase Input DIN Rail Power Supply
MEAN WELL have introduced a brand new industrial power supply; TDR-960 series, the ultra slim, three phase input DIN Rail type power units. Featuring 340 to 550Vac three phase wide input range, TDR-960 can only capture two phases out of the three but still be operated by derating power during the phase failure status. The slim design of 110mm in width helps save precious space on the rail and also makes it 40.2% smaller in size compared to its predecessor model DRT-960. Meanwhile, they have 2.5%~3% higher efficiency than corresponding old models, which responds to the trend of green power with energy saving concepts.
With up-to-date high performance circuit design, TDR-960 series possess up to 94.5% extremely high efficiency and can be full load operated by free air convection cooling from -30°C to +50°C ambient temperature (or up to +70℃ by suitable power derating). Built-in active PFC function, these high efficient power units meet the harmonic current limitation per EN61000-3-2. In addition, with overload protection function designed as constant current limiting and delay shutdown, TDR-960 series can be used in all kinds of critical loading conditions, such as inductive or capacitive loads. Other standard functions include DC OK relay contact alarm signal output, front panel LED indicator, front panel DC voltage adjustment , parallel function, as well as short-circuit, overload, over voltage, and over temperature protections. TDR-960 series comply with UL/ CB/ CE certificates and also meet the EMC requirements of heavy industrial immunity level (EN61000-6-2). Suitable applications include industrial control systems, semi-conductor fabrication equipment, factory automation, electro-mechanical applications, and any installations of fan-less and low noise requirements.
Features:
Three phase 340~550VAC wide input range (Two phase operation possible)
110mm in width only
94.5% extremely high efficiency
Built-in active PFC function
Built-in parallel function/ current sharing up to 4 units
Protection: Short circuit / Overload / Over voltage / Over temperature
Cooling by free air convection
Built-in constant current limiting circuit
DC OK relay contact
Installed on DIN rail TS-35 / 7.5 or TS-35/15
UL508 (industrial control equipment) listed
EN61000-6-2 heavy industrial immunity level
Dimension(WxHxD): 110x 125.2x 150mm