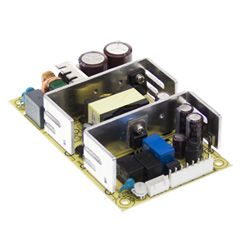 PSC-100 Series – 100W PCB Type Security Power Supply
MEAN WELL has launched another new economical PCB type switching power supply, PSC-100 series, for the fast growing security industry. Similar to AD-55 and AD-155 series, as well as the main output channel, it also has an additional charger output, with smaller power rating, to fulfill the special requirements of security, access control, alarm, or battery backup related applications.
Compared to AD-55, PSC-100 has 10-times more charging capability that can significantly reduce the charging time for the system. With additional relay contact type alarm signals and 5"x3" miniature design, PSC-100 is very suitable for low cost applications that there's system cabinet available to assemble the power supply unit into.
Designed by high performance switching technology, the efficiency of PSC-100 has been improved by 12% over AD-55, so it can work under 70℃ of high ambient temperature using only free air convection. PSC-100 series possess full alarm signals in compliance with the demands of security systems, including AC OK and battery low alarm. When the power is off and the system goes into battery backup mode, the relay will change the state and a signal will be sent out to remind the user to do some early reaction. If the battery voltage goes down to 11V (for 12V battery bank) or 22V (for 24V battery bank), another relay alarm signal will be activated and notify the "battery low" situation. The battery backup loop will be cut off when the battery voltage goes further down to 10.5V or 21V to prevent batteries from over-discharging.
The protections for PSC-100 are complete, including short circuit, overload, and over voltage protection for output side and battery polarity protection (by fuse) and battery low cut-off for the battery side. Along with the global safety certificates per UL, CUL, TUV, CE, and CB, PSC-100 offers a good power choice for your new design of security system, access control system, emergency lighting system, alarm system, UPS system, and central monitoring system.

For more information on the PSC-10 Series or other products within the Open Frame range please speak with a member of our sales team on +44 (0)118 970 3858, review the full specifications below or visit our Open Frame Power Supplies section.