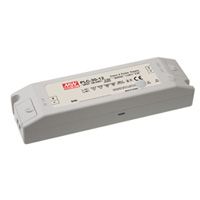 PLC-30/60/100 Series – 30W/60W/96W Class 2 LED Power Supply
MEAN WELL introduce the new PLC-30/60/100 LED power supply series for the ever evolving demand of LED lighting/decorative lighting applications. Modified from the existing PLN-30/60/100 the plastic cases of PLC family have been redesigned to change to termincal block style input/output connections, which provide more flexibility to wiring jobs. The covers of PLC family also add on two small holes, with rubber stoppers, so that users can adjust the output current or output voltage of PLC-30/60/100 easily without removing the covers.
Through the new easy access potential meters the output current level of the PLC family can be adjusted between 75% and 100% (or 75~103%) of the rated value whilst the output voltage can be adjusted between 85% and 100% (or 95~110%) of rated value. PLC-30/60/100 series are also limited power sources complying with UL1310 Class 2 that under any situation the output power will less than 100VA or 5A. This will significantly reduce the hazardous condition exposed to the technicians who execute the construction or maintenance of the LED lighting system.
Thanks to the leading edge ZCS/ZVS technology, the efficiencies of PLC family are as high as 89%, allowing for operating temperatures between -30C and +50C by only free air convection. With built-in active PFC function, the PLC family complies with the limitation of harmonic current of lighting equipment per EN61000-3-2 Class C for 75% of output load or higher. Infact the power factor (PF) value will be higher than 0.9 when the output loading is 75% or higher.
Other characteristics include Constant Current and Constant Voltage mode output styles and short circuit, overload, over voltage and over temperature protections. PLC-30/60/100 also comply with global safety certificates per UL, CUL, TUV, and CE, including EN61347-2-13, UL1310 Class 2, and UL879 (UL Sign Components Manual/SAM List – PLC-100) for LED lighting / sign board related installations. Typical applications for these new Class 2 power units are moving signs and backlighting, LED-based decorative/architectural lighting, LED stage and theater lighting, and LED electronic displays.
For more information on the PLC Series or other products within the LED Power Supply range please speak with a member of our sales team on +44 (0)118 970 3858, review the full specifications below or visit our LED Lighting Power Supplies section.
PLC-30 Series Specification
PLC-60 Series Specification
PLC-100 Series Specification