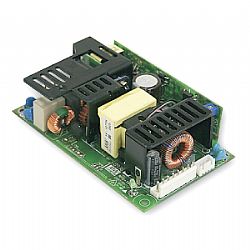 RPS/D/T-160 Series 160W Green Medical PCB Power Supplies
MEAN WELL have launched another 3″ x 5″ low profile PCB type switiching power supply – RPS(G)-160 , RPD(G)-160, and RPT(G)-160 series targeting medical and IT applications with low profile requirements. The 5″ x 3″ PCB size has dominated the PCB-type power supply market for many years and MEAN WELL already offer models in 45W, 65W, 75W, 125W and 200W options so this new series perfectly fills the product gap for power supplies around 140~160W and provide end users with a more complete choice of power supply for all kinds of applications.
RPS/D/T-160, with basic functions, can fulfil the requirements of general medical or industrial applications while the green versions RPSG/RPDG/RPTG-160, with 5Vsb and low no-load-power-consumption <0.75W can be implemented into all kinds of end system.
With built-in active PFC function PF<0.93, these units comply with the harmonic current requirement of EN61000-3-2 and comply to UL60601-1, TUV EN60601-1 medical safety standards. 100~110W of power can be provided using only free air convection, while the full rated output of 145~160W can be extracted by providing the power supplies 20.5CFM of forced air. Featuring 300mA of leakage current at 264VAC, they can be equipped into non-patient contact medical equipment and still comply with Class B per EMI regulations. Standard functions include PF/PG signal output, remote sense (single output 5~15V), and short circuit, overload, over voltage, and over temperature protections. General medical usage that requires low leakage current, general electronic application, and 1U low profile IT equipment are all suitable for applying this miniature product series.
RPSG/RPDG/RPTG-160 are specially designed with additional PS-ON control and 5V/0.8A standby output, these green models can achieve 0.75W of no-load-power-consumption and are suitable for use in final systems regulated by Energy Star/EuP norms or any kind of energy-saving system design.
For more information on the RPS/D/T-160 Series or other products within this range please speak with a member of our sales team on +44 (0)118 970 3858, review the full specification below or visit our Medical Power Supplies or Open Frame Power Supplies sections.
RPS-160 Series Specification
RPD-160 Series Specification
RPT-160 Series Specification