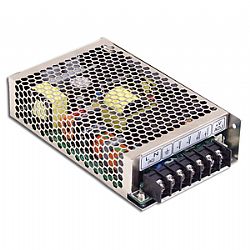 HRP(G)-150 Series 150W High Reliability Enclosed Type Power Supply
MEAN WELL introduce the new high performance product family of HRP Series, to comply with the energy saving trend, with high operating efficiency and low no load power consumption. HRP(G)-150 are 150W AC/DC miniture enclosed type power supplies with PFC function that fulfil the requirement of EN61000-3-2 for harmonic current. Compared to our first generation enclosed type PFC product SP-150 Series, HRP(G)-150 is reduced in size by 40.5% whilst the working efficiency has increased by 5~13%. Featureing up to 89% high efficiency, it can provide 150W continuously at up to 50°C using only free air convection.
Standard functions of HRP-150 and HRPG-150 include 300VAC input surge immunity for 5 seconds, remote sense, LED indicator, heavy industry level of EMS immunity (EN61000-6-2) and protection for short circuit, overload (constant current limiting), over voltage and over temperature. To filfil the emerging trend of eco-design MEAN WELL offers the HRPG-150 models with additional remote ON/OFF control and 5V/0.3A standby output to acheive the goal of no load power consumption <0.5W. More and more end systems ask for this feature to comply with the requirement of Energy Star and EuP norms and using our HRPG-150 should help designers achieve those regulations easily!
Suitable applications of HRP(G)-150 are general electronic application, factory automation, moving sign, test and measurement equipment, and all usage that requires low no load power consumption.
For more information on the RPS/D/T-160 Series or other products within this range please speak with a member of our sales team on +44 (0)118 970 3858, review the full specification below or visit our Enclosed Power Supplies section.
HRP-150 Series Specification
HRPG-150 Series Specification