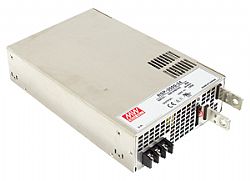 RSP-3000 Series PFC and Parallel Function Power Supply
MEAN WELL has announced another breakthrough in technology and introduced RSP-3000 series – 3000W enclosed type switching power supply with power factor correction (PFC) function – for the growing demand of high wattage applications. Featuring 15.6W/ in3 of extreme high power density, RSP-3000 series can provide full output power up to 50°C. With the innovative trim function the output voltage can be adjusted from 20% to 110% rated voltage by adding 1~5.5V of external control voltage, to provide users greater flexibility in their system design.
RSP-3000 has also implemented a digital control technique that uses a microprocessor to deal with the power management. It significantly increases the flexibility of PSU control and reduces potential part counts at the same time. As well as the standard functions of remote sense, remote ON/OFF control, 12V/0.1A auxiliary output, and alarm signal output (both relay and TTL signal), RSP-3000 series uses constant current limiting plus delay shutdown as the overload protection, which enables the unit to power capacitive/inductive load and still provide full protection for customers system in the same time.  If you need a continuous constant current for charging purpose, just select through the jumper then the shut-down mechanism can be cancelled. 
Applications include front-end power system, factory automation, instrumentation, moving sign, telecom/datacom, laser-carving machine, IC testing equipment, LCD panel burn-in system, battery charging and etc.
For more information on the RSP-3000 Series or other products within this range please speak with a member of our sales team on +44 (0)118 970 3858, review the full specification below or visit our Enclosed Power Supplies section.