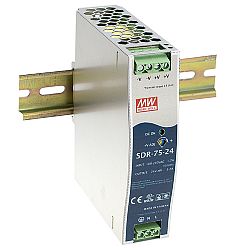 SDR-75 Series – 75W High Efficiency Slim DIN Rail Power Supply from MeanWell
MEAN WELL introduced the new SDR-75 series to make the high efficiency slim DIN rail power product line more extensive. Now, the range has diverse wattages of 75W, 120W, 240W, 480W and 960W for user selection. The slim design of 32mm in width helps save precious space on the rail and also makes it 41% smaller in size compare to its predecessor DR-75. SDR-75 also possesses 9~12.5% higher efficiency than corresponding models and the working temperature ranging from -30°C to +70°C is superior to the range of -10°C to +60°C of DR-75, in response to the trend of green power with energy saving concept.
With up-to-date high performance circuit design, SDR-75 series feature full range AC input (88~264VAC) and possess up to 90% of high efficiency, so they can be cooled by free air convection from -30°C to +55°C or +60°C ambient temperature under full load condition, and even up to +70°C with suitable derating. SDR-75 has 150% peak load capability and is equiped with overload protection of constant current limiting and delay shut down, which suits to all kinds of critical loading status, such as inductive and capacity loads. Other standard functions include front panel LED indicator, front panel DC voltage adjustment, as well as protections for short-circuit, overload (constant current mode), over voltage, and over temperature. In addition, they comply with UL, CUL, CB, TUV, and CE requirements and also meet the EMC requirements of heavy industrial immunity level (EN61000-6-2). Suitable applications include industrial control system, semi-conductor fabrication equipment, factory automation, electro-mechanical applications, and any installations with fan-less or low noise requirements.
Features
• 32mm slim design
• Universal AC input 88~264V
• 90% high efficiency
• 112.5W peak power for 3 seconds
• Protection: Short circuit / Overload (constant current limiting, shut down > 3 seconds) / Over voltage / Over temperature
• Cooling by free air convection
• Installed on DIN rail TS-35/7.5 or TS-35/15
• UL508 (industrial control equipment) compliance
• Certificate: UL / CUL / TUV / CB / CE
• Dimension(WxHxD): 32x 125.2x 102mm
• 3 years warranty
For more details on the SDR-75 Series of DIN Rail power supply products Click Here.