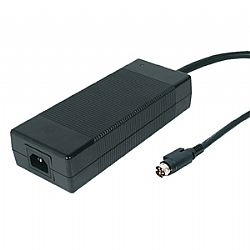 218W External Battery Charger from MeanWell Direct UK
In response to the increasing energy saving and environmental requirements for battery chargers MEAN WELL leads the market with the introduction of the new 218W AC/DC external battery charger GC220 Series. Possessing very low no load power consumption and up to 93% of high efficiency the entire series is energy saving in both standby mode and active mode. Featuring 2 stage fast charging characteristics these battery chargers can quickly and efficiently fuel your batteries.
Suitable for all kinds of batteries, such as lead-acid, Lithium-Mn (LiMnO2), Lithium-Fe (LiFePO4) and sealed lead-acid gel battery. With 90 ~ 264VAC full range input, GC220 Series possesses constant current and constant voltage 2 stage charging curve and can monitor the battery capacity by detecting the battery voltage. The battery charger can quickly charge a battery by constant current mode in a low battery capacity status, and then when the battery bank becomes full the charger will automatically turn to constant voltage mode with slight charging current to avoid life time reductions caused by over charging.
Using the standard IEC320-C14 AC inlet GS22 Series has an earth ground pin and is enclosed by a UL 94V-0 rated plastic case. These class I units are suitable for charging electric scooters, electric bikes and electric wheelchairs. With built-in active PFC function GC220 Series can comply with the harmonic requirements of EN61000-3-2. Other standard functions/features include 2 colour LED indicator for charging status and short circuit, over voltage and over temperature protections. These chargers have also acquired global safety certification as per TUV, UL, CB, CE and FCC.
For more information on the Series or other products within the range please speak with a member of our sales team on +44 (0)118 970 3858, review the full specifications below or visit our External Battery Charger section.