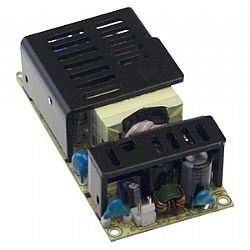 45W Open Frame Switching LED Power Supply
After introducing both aluminium cased and fully enclosed plastic cased LED power supplies MEAN WELL have now added another LED product category, AC/DC open frame switching type, for the built-in installation of LED lighting related applications. The new PLP-450 Series, along with the not long released PLP-30 & PLP-60 Series could fully satisfy the low wattage power requested by LED lighting designers.
Featuring 90~264VAC full input range and built in active PFC function, PLP-45 Series can comply with EN61000-3-2 Class C, for harmonic current and has PFC>0.9 when output loading is higher than 75%, to fulfil the general requirements of lighting fixtures. Thanks to the simplified single stage PFC technology, the required high power factor can be achieved economically.
Efficiencies of PLP-45 Series are as high as 89% and the products can operate at full load in temperatures between -30C and +70C by only free air convection, which may often be requested by lighting systems as they are used in such a wide variety of environments. The output current level of these LED power supplies can also be fine tuned, between 75% and 100% of rated value to increase their flexibility in system design.
Other standard functions include short circuit, over load and over voltage protections; the units also comply with EN61347-2-13, EN55015 and EN61547 as per lighting regulations. Typical applications include general indoor LED lighting, LED based decorative lighting and LED electrical displays.
For more information on the Series or other products within the range please speak with a member of our sales team on +44 (0)118 970 3858, review the full specifications below or visit our LED Power Supply section.