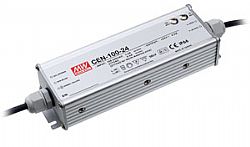 CEN-100 Series – 96W Class 2 LED Power Supplies
In response to the increasing demand for energy saving products and lower production costs MEAN WELL introduce another 96W metal cased LED power supply with active PFC function, wide input voltage ranges and IP66 levels – CEN-100 Series.
The special mechanical design of CEN-100 ensures it meets with IP66 requirements, but at a reduced cost due to the reduction of heat conducting glue required. Another cost savinf element is the single stage PFC topology; this ensures the high power factor requirements of the lighting industry can be acheived economically. The addition of waterproof voltage and current adjustment points, to the top of the power supply, also save potential maintenance costs eliminating the need to remove the cover.
The high frequency switching technology of CEN-100 ensures efficiency levels up to 91% with cooling by free air convection from -30C to +70C ambient. To enable the use of this power supply in the outdoors or harsh environments the units have full aluminium cases, stainless steel screws and waterproof cables. The 90~295VAC wide range AC input ensures these power supplies are suitable for worldwide use, including the usage of the 277VAC public power system in North America, and the built-in active PFC function means they can meet the norms of harmonic current as per EN61000-3-2 Class C, and also meet the requirements of PF>0.9 if loading is over 60%.
In addition, these power units are equipped with 4KV surge immunity (EN61000-4-5) which comply with requirements of street lighting applications. Other standard functions / features include constant voltage (C.V.) + constant current (C.C.) operation mode, short circuit, overload, over voltage, and over temperature protections. CEN-100 series also comply with certification as per TUV/UL/CUL/CE. Typical applications include LED street lighting, LED decorative lighting, and general indoor/ outdoor LED-based lighting applications…etc.
For more information on the Series or other products within the range please speak with a member of our sales team on +44 (0)118 970 3858, review the full specifications below or visit our LED Power Supply section.