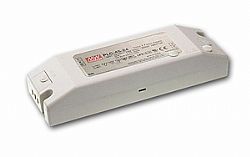 New – 45W Class 2 LED Power Supplies from MEAN WELL Direct PLC-45 Series
New to MEAN WELL's range of non IP rated LED power supplies is the PLC-45 Series. Designed with plastic cases and terminal block style input & output connections, rather than the standard wire connections, this power supply range offers more flexibility to installations. The adjustable output current and voltage points, protected by rubber stoppers, also increase ease of use as the cover of the unit no longer needs to be removed.
PLC-45 Series are limited power sources complying with UL1310 Class 2, where the output power will remain less than 100VA or 5A whatever the situation; this helps to reduce the potential hazardous conditions exposed to technicians during construction or maintenance of the LED lighting systems they may be connected to.
The efficiencies of these power supplies are boosted by the built-in active PFC technology used and are as high as 87.5%; operating temperatures are also improved to between -30C and +50C using only free air convection to cool. PLC-45 series also comply with global safety certificates per TUV, UL, CUL and CE, including EN61347-1, EN61347-2-13, UL1310 Class 2 for LED lighting / sign board related installations. Other characteristics include constant current and constant voltage mode output styles, short circuit, over load, over voltage and over temperature protections.
For more information on the PLC-45 Series or other products within the range please speak with a member of our sales team on +44 (0)118 970 3858, review the full specifications below or visit our LED Power Supply section.