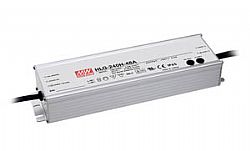 HLG-240(H) Series New 240W High Efficiency LED Power Supply
In response to the demand of LED lighting, architecture decoration, and outdoor lighting, MEAN WELL added two new series ~ HLG-240 and HLG-240H ~ to their high IP level product family in order to fulfill the higher wattage requirements in the market. With Built-in active PFC function, HLG-240H series feature 90~305VAC wide range AC input and HLG-240 Series has 90~264VAC. Not only meeting the harmonic current limitation per EN61000-3-2 Class C, HLG-240(H) also fulfills PF>0.9 if loading is over 65%. In addition, these two power units possess 4KV surge immunity (EN61000-4-5) ability which complies with the requirements of street lighting.
The major characteristic of these series' is that they are fully potted by heat-dissipating glue, so they can reach IP65 or IP67 waterproof/ dustproof level. Users can also adjust DC output voltage range from 95 to 105% and current range from 50 to 100% through several mechanical options. A and C type models allow you to remove rubber stoppers on the cover, and B type allows for adjustment through the output cable. This flexibility can fulfill the demands of LED lighting system designers when they need some slight adjustment of output voltage and current. In order to fit in with the outdoor harsh environment, full-aluminum case and stainless screws are designed in these new power supplies. The I/O connection can also be changed to be output cable or terminal block, which allows users a flexible installation in various systems.
With up-to date LLC and synchronize rectify technology, HLG-240(H) posseses up to 94% of high efficiency, so it can be cooled by free air convection from -30℃ to +70℃ ambient temperature and meets the requirements of outdoor assembly. Other standard functions are protections for short circuit, over voltage, overload, and over temperature. HLG-240(H) series comply with global certificates per UL1012, EN61347-1, EN61347-2-13 of lighting regulations as well as UL60950, EN60950-1 of IT regulations, which can greatly guarantee your safety.
These high efficiency power supplies are very suitable for LED street lighting, outdoor electric display, LED decorative lighting, indoor/outdoor LED lighting…etc. They are also good solutions for general applications with an outdoor environment with high dust and moisture exposure.
For more information on the Series or other products within the range please speak with a member of our sales team on +44 (0)118 970 3858, review the full specifications below or visit our LED Power Supplies section.