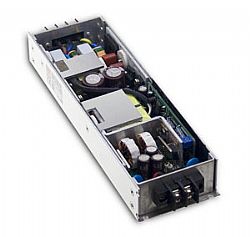 New 150W Power Supply
New ULP-150 Series – 150W U-bracket LED Power Supply



MEAN WELL launched the new 150W AC/DC U-bracket type LED power supply with active PFC function ~ ULP-150 series. With constant voltage design and 90~295VAC wide AC input range, ULP-150 series can fulfill the usage of 277VAC main power system in USA. Built-in active PFC function, they can meet the norms of harmonic current per EN61000-3-2 Class C ( ≧ 60% of load), and also meet the demand of PF>0.9 if loading over 50%. In addition, these power units equip with 4KV surge immunity level (EN61000-4-5), so that they can comply with the requirements of street lighting applications and are perfectly suitable for assembly inside the lamp head of LED streetlight.

With up-to date zero current/ zero voltage switching technology, ULP-150 possesses up to 93% of high efficiency, so it can be cooled by free air convection from -30℃ to +60℃ ambient temperature. By adding a heat sink (300*500*2mm) at the bottom of power unit, an even higher temperature of +70℃ can be obtained, which conforms to the high working temperature requirement of closed lighting fixtures. All series are semi-encapsulated for PCB protection, which also provide the basic ability of anti-moisture, anti-dust, as well as heat dissipation. Other standard functions include ±10% output voltage adjustment, short circuit, overload, over voltage, and over temperature protections. Meanwhile, USP-150 are designed refer to UL8750, EN61347-2-13, and related EMC norms (EN55015/EN61547) and hence are suitable for LED street lighting, LED electronic displays, and all kinds of LED-based lighting etc.




For more information on the Series or other products within the range please speak with a member of our sales team on +44 (0)845 533 3858, review the full specifications below or visit our Power Supplies section.