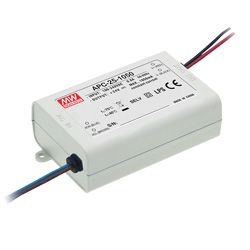 New APC/V~25/35 Series, 25W/35W Economical Indoor LED Power Supply
After the launch of the APV/APC-12/16 series, MEAN WELL further introduced 25W/35W rectangular economical plastic case LED power supplies~ APV/APC-25/35 series. Following the same design concept of APV series with C.V. mode and APC series with C.C. mode, these four new series are non-PFC design, in order to keep the low-cost advantage and to provide users more alternatives while designing lighting fixtures.
With up to date high frequency switching topology, the APV/APC-25/35 series feature 90~264VAC input range and possess up to 84% high efficiency, so that they can work between -30~+70℃by by free air convection only. APV/C-25 (25W) are not potted while APV/C-35 (35W) are semi-potted for PCB protection and provide the basic ability of anti-moisture, anti-dust as well as heat-conduction purposes. Built-in standard functions include short circuit, overload, over voltage protections, withstand 300VAC surge input for 5 seconds…etc. With IP30 design, these new power units are recommended for indoor LED lighting without the need of high level waterproof and dustproof abilities. Typical applications include LED indoor lighting, LED-based decorative lighting, and LED electrical display…etc.
Features:
90~264V universal AC input
Constant voltage design (C.V. mode) for APV series; Constant current design (C.C. mode) for APC series
Plastic case with 94V-0 fire prevention level
84% high efficiency
Cooling by free air convection
Isolation class II, no FG
Class 2 power unit
Protections: Short circuit / Overload / Over voltage
Low cost, high reliabilty
100% full load burn-in test
Certificates: CE
Dimension (LxWxH): 84x 57x 29.5mm