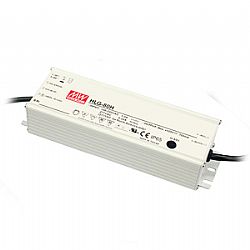 New HLG-80H-C Series, 90W High Output Voltage LED Power Supply
After the launch of low output voltage and high current rating LED power supplies ~ HLG-40H~320H series (40W~320W), MEAN WELL has introduced the new 90W high output voltage and low current rating LED driver ~ HLG-80H-C series. Possessing 350mA (257VDC max. output) or 700mA (129VDC max. output) rated constant current, HLG-80H-C series units are suitable for LED lighting fixtures that require connection to numerous LEDs in one single strip to high voltage rating. Under this design, the LEDs can get the perfect constant driving current as well as long lifetime. With wide input range of 90~305VAC, HLG-80H-C series is not only fit for general 115VAC or 230VAC mains input, but can also be operated under 277VAC input in North America. In consideration of the influence of dust and moisture from outdoor or indoor harsh environments, this new series is fully potted by glue (IP65/67 structure) and enclosed by an aluminum case.
With constant voltage (C.V.) plus constant current (C.C.) design, HLG-80H-C series are built-in two-stage active PFC function and comply with harmonic current limitation per EN61000-3-2 Class C (>50% load). They also fulfill PF>0.9 if loading over 50% and possess 4kV surge immunity (EN61000-4-5) ability which complies with the requirements of street lighting. With up-to-date high efficiency topology, HLG-80H-C series possess up to 92% high efficiency, so they can be cooled by free air convection from -40℃ to +70℃ ambient temperature that meet the high temperature requirement of closed lighting systems. Besides standard functions of short circuit, over voltage, and over temperature protections, these power units provide dimming options of "three-in-one dimming function" (B type) or "timer dimming function" (D type). With compliance to global certificates per UL/ CUL/ TUV/ CB/ CE, including UL8750, EN61347-1, EN61347-2-13 for lighting regulations, your safety can be guaranteed. Suitable applications include LED street lighting, LED tunnel lighting, LED spot lighting, LED decorative lighting, and other indoor/outdoor LED lighting…etc.
Features:
Wide range input 90~305VAC
Built-in active PFC function
92% high efficiency
Aluminum case and potted by glue, comply with IP65/67
Output current adjustable (refer to the below table)
Meet 4kV surge immunity level (EN61000-4-5)
-40~+70℃working temperature
Cooling by free air convection
Protections: Short circuit / Over voltage / Over temperature
Certificates: UL / CUL / TUV / CB / CE
Dimension (LxWxH): 195.6x 61.5x 38.8mm