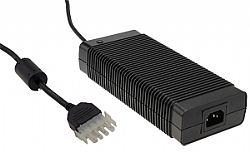 New GC330 Series 326W AC/DC Energy Saving Battery Charger
In response to the energy saving and environmentally friendly requirement of battery chargers, MEAN WELL launched the new 326W AC/DC battery charger~GC330 series, after the existing models of GC120 (120W), GC160 (160W), and GC220 (218W). Possessing very low "no load power consumption" (<1W) and up to 93.5% high efficiency, the whole series are real energy-saving in both standby mode and active mode. Featuring 2-stage fast charging characteristics, these battery chargers can quickly and efficiently feed your hungry batteries. They are suitable for all kinds of batteries, such as lead-acid battery, Lithium-Manganese battery(LiMnO2), Lithium-Ferrum battery(LiFePO4), and sealed lead-acid gel battery…etc.
Featuring 90~264VAC full range input, GC330 series possess 2-stage charging curve (constant current and constant voltage) and can monitor the battery capacity by detecting the battery voltage. The device can quickly charge the battery at constant current mode in a low battery capacity status. And then, when the battery bank becomes full, the charger can automatically turn into constant voltage mode with slight charging current to avoid lifetime reduction caused by over-charging.
Using the standard IEC320-C14 inlet as the input connector, GC330 series is equipped with earth ground pin and enclosed by UL 94V-0 rated plastic case. These Class I units can effectively prevent users from electrical shock and are especially suitable for charging electric scooters, electric bikes, and electric wheelchairs. Other standard functions include charging current auto derating, 2 color LED indicator for charging status, short circuit, over-voltage, and over temperature protections. Furthermore, these chargers acquired global safety certificates per UL, CUL, TUV, CB, FCC, and CE which guarantee your safety for security systems, leisure vehicle, and office/commercial equipments designed with backup batteries…etc.
Features:
2-stage charging characteristic
No load power consumption < 1W
High efficiency up to 93.5%
90~264V universal AC input
Built-in active PFC function, PF>0.95
IEC320-C14 3 pole AC inlet
Fully enclosed plastic case (UL 94V-0)
Cooling by free air convection within -30 to+60oC
Protections: Short circuit / Overload / Over voltage/ Over temperature
Charging current auto derating at high temperature
2-color LED indicator for charging status
Approvals : UL / CUL / TUV / CB / FCC / CE
Dimension (LxWxH): 220x 95x 46mm