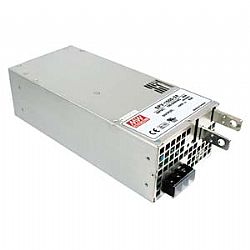 1500W Single Output Power Supply with Programmable Voltage Function
The New SPV-1500 Series from MEAN WELL are enclosed switching power supplies equipped with parallel function and programmable output voltage function. By adding 1~6VDC external control the output voltage of SPV-1500 can be trimmed from 20% to 120% of the rated voltage. This function greatly increases the flexibility available to end system users when operating equipment that has different output voltage requirements. In addition to this function SPV-1500 Series are equipped with parallel function, which can increase the output wattage up to 4500W, to fulfil the demands of high power applications.
SPV-1500 implements innovative ZVS technology, which yields efficiency up to 90%. Featuring 8.3V/in3 high power density, this new series also provides full output wattage even at 100VAC input, making it suitable for full load usage in countries equipped with 100VAC or 115VAC utility input power.
Other Standard functions of SPV-1500 include remote sense, remote ON/OFF control, 12V/0.1A auxiliary output, alarm signal output and programmable output voltage. SPV-1500 uses constant current limiting as the over load protection, which enables the unit to power capacitive and inductive loads and still provide full protection to customers systems as the same time. The entire series complies to and has certification as per UL, cUL, TUV, CB and CE.
Suitable applications include LCD panel burn-in systems, IC testing equipment, telecommunications/datacommunications, laser carving machines, factory automation and battery charging.
For more information on the SPV-1500 Series or other products within the range please speak with a member of our sales team on +44 (0)118 970 3858, review the full specifications below or visit our Enclosed Switching Power Supplies section.