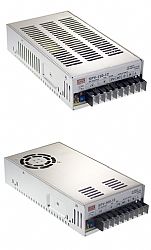 150W & 300W Encolsed Switching Power Supply with Programmable Output Voltage
After launching SPV-1500 series single output enclosed switching power supply, with programmable output voltage function MEAN WELL now extend the range to cover lower wattage applications of 150W and 300W – SPV-150 and SPV-300 Series. The programmable output voltage function can be achieved by adding 1~5.5VDC external control signal which in turn will allow a 20% ~ 110% trim of the rated output voltage value; this greatly increases the flexibility available to end users and fulfils the requirements of equipment which may require switching between different voltages.
With full range input from 88 ~ 264VAC and built-in active PFC function these enclosed switching power supplies comply with harmonic current requirements of EN61000-3-2. SPV-150 and SPV-300 are a high frequency design and possess efficiency up to 83% and 86.5% respectively. Cooling of SPV-150 is by free air convection, up to 40C under full load conditions; SPV-300 Series are cooled by their built-in long life DC fan, with on/off control, which can be operated at up to 50C of ambient temperature.
Other standard functions of SPV-150 & SPV-300 are remote on/off control and protections for short circuit, over voltage, over load (constant current) and over temperature. Both series also comply with and are certified to UL, cUL, TUV, CB and CE. Applications include LCD panel burn-in systems, IC testing equipment, factory automation, mechanical and electrical industries, or any applications that often needs to adjust the output voltage
For more information on the Series or other products within the range please speak with a member of our sales team on +44 (0)118 970 3858, review the full specifications below or visit our Enclosed Switching Power Supply section.