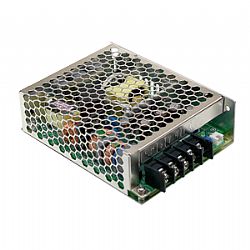 75W Miniature High Reliability Enclosed Switching Power Supply
The new 75W miniature high reliability ac/dc enclosed switching power supply from MEAN WELL, HRP-75 Series, has been introduced in response to the increasing demand for energy saving and low energy consumption products. To fit in with existing products in this range these single output enclosed switching power supplies have PFC function as well as the energy saving concept
Featuring low no load power consumption and high operating efficiency the reduced profile of HRP-75 is designed for fitting 1U applications. Possessing up to 89% of high efficiency the power supplies can be cooled bu free air convection from -30C to +70C ambient temperature. With the built in PFC function these units meet the requirements of EN61000-3-2 for harmonic current and also withstand 300VAC input surge for 5 seconds, which can help to reduce any damage from unstable mains power.
Other standard functions include remote on/off control and protections for short circuit, over load (constant current mode), over voltage and over temperature. In addition HRP-75 features low no load power consumption <0.5W. Suitable applications include factory automation, test and measurement equipment, electrical and mechanical industry, LED display and all usage that requires low no load power consumption
For more information on the Series or other products within the range please speak with a member of our sales team on +44 (0)118 970 3858, review the full specifications below or visit our Enclosed Switching Power Supply section.