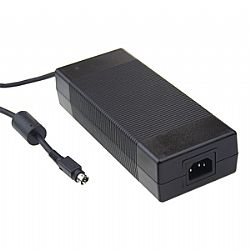 GS220 Series ~ 220W Energy Star Level V Green Desktop Adaptor
To further expand our AC/DC green adaptor line MEAN WELL introduce the GS220 Series. This new generation 220W desktop adaptor complies with the latest Energy Star regulation (version 2.0 or Level V), EuP second step (Energy-Using Product Directive 2005/32/EC) and EISA 2007 (Energy Independence and Security Act of 2007) of USA.
Possessing very low no load power consumption <0.5W and up to 94.5% of high efficiency the whole series are really energy saving in both standby mode and active mode, which fulfil the requirements all over the world for energy saving products.
Using the standard IEC320-C14 (with earth ground pin) inlet as the input connector and UL 94V-0 rated plastic case GS220 Series are Class I, 90~264VAC full range input, single output desktop adaptors with PFC function. Output voltages range from 12V ~ 48V to fulfil the requirements of various types of electronic equipment. In addition, using up to date LLC topology and synchronise rectifier, GS220 series posses up to 94.5% of high efficiency, operates at -10C to +50C temperatures, under full load conditions (@230VAC) and can be cooled using only free air convection.
Equipped with the features above, these green adaptors can be listed as one of the best solutions in the market if comparing energy saving concepts, high reliability and high efficiency. G220 desktop adaptors have also acquired global safety/EMC certificates for TUV, UL, cUL, CB, BSMI, CE, FCC and CCC which guarantees the safety and reliability of these products for many different applications including consumer electronics, POS systems, office equipment and commercial equipment.
For more information on the Series or other products within the range please speak with a member of our sales team on +44 (0)118 970 3858, review the full specifications below or visit our Adaptors and Plugtops section.