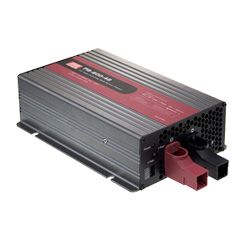 PB-600 Series 600W Intelligent Battery Charger
MEAN WELL introduce another new intelligent ac/dc battery charger, PB-600 Series, for lead-acud battery charging applications. Featuring user selectable 2-stage/8-stage charging characteristics, this intelligent charger controlled by microprocessor can quickly and efficiently feed your hungry batteries, or using a more complete charging curve to store more energy into the battery banks. For the special new rechargeable batteries, such as lithium-ion (LiFeP04, LiMn02) batteries the charging curve of PB-600 can be modified easily to fit in with their charging characteristics.
To effectively extend the lifetime of batteries, and reduce the maintenance efforts, PB-600 possesses a built-in temperature compensation circuit. Simply connect the NTC sensor (supplied with the charger unit) to the body or ambient of the batteries, the output voltage of the charger will then adjusted accordingly based on the temperature. Featuring built-in active PFC function, PB-600 can comply with the harmonic requirement per EN61000-3-2 which has been requested by more and more countries in the world.
Other standard function / feature includes IEC320-C14 ~ 3 pole AC inlet, power ON/OFF switch with light indicator, remote ON/OFF control, fan ON/OFF control and reverse polarity, short circuit, over-voltage, and over temperature protections. Suitable application include electrical motorcycles, solar power systems, security systems, UPS systems, electrical wheelchairs, leisure vehicles and vessel applications that may use rechargeable batteries as the power source or back-up system.
For more information on the PB-600 Series or other products within the battery charger range please speak with a member of our sales team on +44 (0)118 970 3858, review the full specifications below or visit our Battery Chargers section.