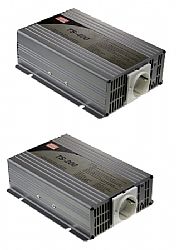 TS-200 & TS-400 Series – 200W & 400W True Sine Wave DC/AC Inverter
MEAN WELL have launched two more high performance DC/AC Power Inverters – TS-200 & TS-400 – 200W & 400W True Sine Wave DC/AC Power Inverters, to follow on from the introduction of TN/TS-1500, TS-1000 and TS-700 Series and extends the product coverage into lower wattage fields. Right now users can choose from 200W to 1500W from MEAN WELL's inverter line for all kinds of system design.
Using high-frequency circuit topology, these true sine wave inverters are light weight and possesses up to 88.5% of high efficiency. They can provide 200W(TS-200) or 400W(TS-400) continuously for all kinds of harsh load with low THD<3%. Peak load capability including 230W(TS-200) or 460W(TS-400) for 3 minutes, 300W(TS-200) or 600W(TS-400) for 10 seconds, and two times of surge power for 30 utility cycles.
TS-200/400 are controlled by microprocessor and the output AC voltage and frequency can be adjusted easily through their front panel. Protections for these units are complete: internal fuse, battery low alarm, battery low shutdown, battery polarity, battery over voltage protections for input side, while short circuit, inverter overload, over temperature protections, and GFCI (optional – type F) for output side. Other standard functions include remote ON/OFF control and LED indicator for status monitoring. The design of TS-200 and TS-400 series comply with global safety and EMC certificates and is suitable for powering all kinds of home appliances, power tools, and office & portable equipment in vehicles, yachts, mobile homes or places that the utility can't be reached or the power quality is poor.
For more information on the TS-200 & TS-400 Series or other products within the DC/AC Power Inverter range please speak with a member of our sales team on +44 (0)118 970 3858, review the full specifications below or visit our DC/AC Power Inverter section.
TS-200 Series Specification
TS-400 Series Specification